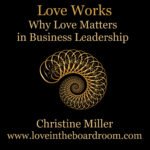 "This Love Stuff Really Works" – with Tom Evans & Christine Miller
Christine Miller & Tom Evans – This Love Stuff Really Works
What is Love – Really?
Tom and Christine had a great  conversation about Love, Life, Work, and explored creating a Love Pandemic, for example.  Christine describes how to bring more Love into our lives as a whole, and gives examples from her many Love conversations of the effects of caring on people's lives – because it's true – this Love stuff really works.