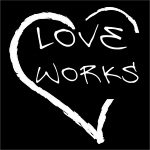 In these times of fear and uncertainty, these simple suggestions and moments of contemplation  can help bring you and our world greater peace, health and Love.
It starts with you.
You can build your inner peace and strength day by day to help your resilience, physical, mental, emotional and spiritual.
Day 2. Love at Work is an absolute Love, existing beyond words, actions and experiences.
Practice: Take a quiet and silent moment or two to sense what it is like to experience Love
First, bring to mind a time when you felt loved and cared for, nurtured.
Now, put your hand on your heart, and feel compassion for your self, in your humanity, and give yourself an inner smile. 
Then beam your sense of Love to all around you.
Especially anything or anyone that unsettles you!