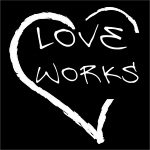 "Love at Work  – 33 Love Thoughts"
This series of 33 Love thoughts and practices on Love at Work emerges from a workshop I took part in at Warwick University, UK. The participants were psychologists, therapists  and organisational development consultants who are also writers, and it was about the benefits of using reflective writing. We did an exercise where we chose a subject that we were dwelling on, or which simply came up at the time.  Then we wrote down, in fifteen minutes, the thoughts we had as our minds relaxed and flowed. I can still see us all as we scribbled down our responses!
I have known for a long time that if I love my clients altruistically, then it is a major aide to their well-being and growth. This is one of the reasons I am so dedicated to bringing more Love into the world. So my topic was evident to me, that I would contemplate 'Love at Work'. What emerged is this – 33 Thoughts on Love at Work, presented as a 'one a day Love Thought' for 33 days, not necessarily consecutive, during this time of confinement for Corona Virus.
In these times of fear and uncertainty, these simple suggestions can bring greater peace, health and Love to our world.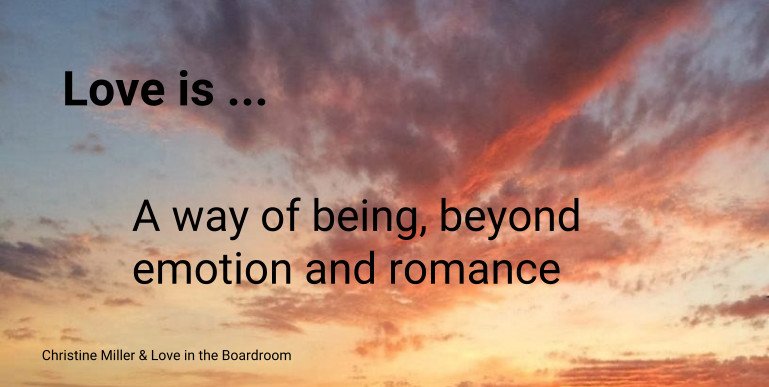 Day One: Love is a way of being, beyond emotion and romance.
How can you be Love, and be Loving, at work?
Practice:
Imagine yourself as a being of Love exuding benevolence and joy.  Think of times and circumstances where you can respond in more caring and loving ways. When you would normally respond by 'being angry' or 'being frustrated', or 'being afraid' , instead pause, take a few deep breaths and explore 'being loving' instead.
You can start any time, and follow the 33 days. As the thoughts appear, you can then dip in to those which appeal to you most.
Drop me a comment below with your thoughts on Love at Work. I'd love to hear from you. 
See more thoughts on Love at Work At LoveWorks.co